[ Section Vaginatae page. ] [ Amanita Studies home. ] [ Keys & Checklist/Picturebooks ]

Amanita beckeri Huijsman
"Becker's Ringless Amanita"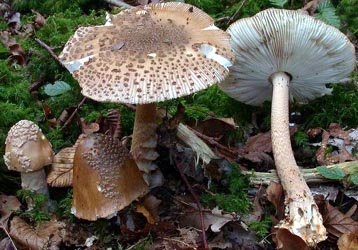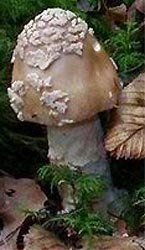 Technical description (t.b.d.)
BRIEF DESCRIPTION: The cap of A. beckeri is up to 120 mm wide, hemispheric, becoming convex, more rarely campanulate, not umbonate, slightly viscid, smooth, with a striate-sulcate margin. The cap is golden walnut over disc, a little paler and often more ochraceous towards the margin when young. The cap's flesh is rather thin and fragile, white, browning slightly. The volva covers the cap with white warts, that become browner with age, but never become gray or black.
The gills are free, white to cream, rather narrow, concave especially in young specimens. The gills may have brownish spots appearing in age. The short gills are few in number and truncate.
The stem is 100 - 200 x 12 - 20 mm, straight and thin, exannulate, cylindric to narrowing slightly upward. It is decorated near the apex with fine longitudinal striations that are at first white and then turn brown. The flesh is white, browning slightly on exposure, at first stuffed, then hollow. The volva is white, becoming brownish, not very coherent, leaving a belt of tissue around the lower stem not far from its base, and forming a small cup at the stem's base.
The spores measure (8.8-) 9.8 - 11.8 (-13.0) x (7.2-) 9.0 - 11.0 (-12.2) Ám and are inamyloid and globose to subglobose (occasionally broadly ellipsoid). Clamps are absent from bases of the basidia.
I have tentatively placed A. beckeri near A. ceciliae (Berk. & Broome) Bas, but the failure of the gills to turn gray with age and the non-graying volva may require a change in this thinking. Another taxon with non-graying gills and weak, non-graying volva that may take on brownish or rusty tints is A. populiphila Tulloss & E. Moses. Known from the Central Plains and eastern Rocky Mountain states of the U.S., the latter is a smaller species with a pileus that is white at first.
The species was originally described from France and is known from Europe. The Wuilbaut collection ( photograph above) was examined by Dr. C. Bas. -- R. E. Tulloss
Photos: J. J. Wuilbaut (Belgium). See expanded image.
[ Section Vaginatae page. ] [ Amanita Studies home. ] [ Keys & Checklist/Picturebooks ]
---
Last changed 29 September 2009.
This page is maintained by R. E. Tulloss.
Copyright 2004, 2005, 2009 by Rodham E. Tulloss.
Photographs copyright 2002 by J. J. Wuilbaut, re-used by permission.